Watson and the Irishman...

Title: "Baker Street 38: Another Fateful Bargain"
Author: Gaedhal
Pairing/Characters: Sherlock Holmes/Dr. John H. Watson; The Irishman (Professor James Moriarty).
Rating: R
Spoilers: None
Notes/Warnings: "Sherlock Holmes" (2009) Universe. Set before the Blackwood case.
Disclaimer: This is for fun, not profit. Enjoy.
Summary: Watson makes the sacrifice.

First chapter here:
1. "A Walk to Regent's Park"
http://gaedhal.livejournal.com/367955.html

Previous chapter here:
37. "A Stranger and an Enemy"
http://gaedhal.livejournal.com/384469.html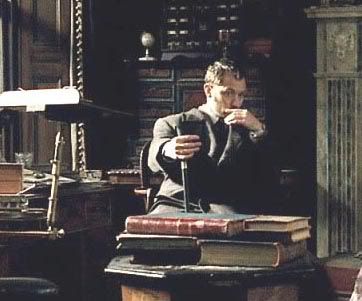 New Chapter here:


By Gaedhal



"But why?" the Irishman demanded suspiciously. "Is this a trap?"

"Look into my eyes," I said. "You know it is not."

He stared deeply into my eyes until I could feel him piercing my very soul.

"I don't understand," he said, shaking his head. "You hate me! You have made that clear enough the last few times we met."

"My feelings for you are of no consequence," I declared. "This is not about you. This is about Holmes. If this is what I must do to keep him safe, then I will do it."

The Irishman bolted down his claret and poured himself another glass.

"More for me, too, if you please," I requested.

A stranger walking into the room and seeing us would think it a mundane sight -- two old friends drinking together, sharing a fine claret. But things are not always as they seem.

I gazed into my glass at the blood-red vintage. This was difficult, but it was necessary. I could do it -- and I would do it.

"Why?" he asked again. "I want to know!"

"Because..." I swallowed. The only thing was to be truthful. The Irishman could always sniff out a lie, but the truth he could not deny. "Because I love him. I have for many years. You took us for lovers, but it's not that. For me it's much more than that. He is everything to me -- my entire reason for being alive. I didn't make myself face that fact until very recently. And now that his life is in danger..." I paused, trying not to falter. "My own existence is meaningless. I have done nothing worthwhile in my life, nothing to leave my mark on the world. My loss would cause barely a ripple. But Holmes is a different story. His loss would be a great tragedy. His great mind and intellect..."

"His mind? Bah!" The Irishman growled the words. "His intellect? Sherlock Holmes is a mere insect compared to me! I will crush him under my boot heel!"

"I am offering myself," I repeated. "You know the terms."

"Do you really love him so much?" The Irishman's voice was softer now. But that meant he was even more dangerous, for he was revealing a side of him that was close to human. And humans are even more deadly creatures than machines.

"Yes," I said. "But that matters little because he doesn't love me. He doesn't love anything. He is incapable of such emotions. And that is, in the end, a fortunate thing, for he will not miss me too much. And then, after a time, he will forget me absolutely."

"That remains to be seen," the Irishman commented.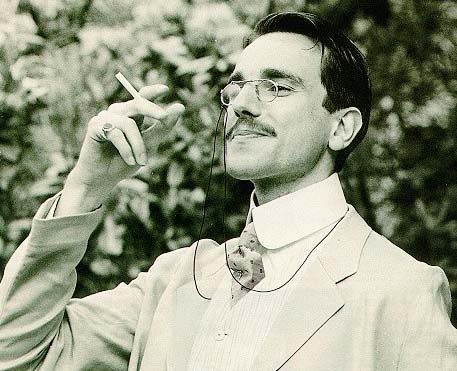 "And one more thing..."

His lips pressed together in annoyance. "What now? A fine carriage? A villa on Capri? A sapphire stickpin?"

"I've already had those things," I reminded him. "The killers of William Bates. I want them handed over to the authorities so that Mick Wiggins and Dilly Mitchell can be freed."

"Why do you care about the fates of two slum whores?" the Irishman grumbled. "They are beneath your notice."

"They are innocent," I replied.

"Innocence is a relative term," the Irishman reflected. "In the eyes of most decent people, those two are hardly innocent and deserve whatever penalty they draw."

But I was adamant. "They did not kill Bates. You know it, I know it, and Holmes knows it. Let them go free."

The Irishman's brow furrowed. He was not used to haggling and didn't care for it. "You cannot save every stray cat from the gutter, Johnny Lad. Forget those two."

I put my hand on his wrist, lightly. "Please?" I said, coaxing.

He sighed. "I will see what I can do. But it's bad business to turn good servants over to Scotland Yard, especially when they have simply followed orders."

"Then find another way to free Mick and Dilly. You can think of a way -- a powerful mind like yours."

He smiled at me, preening. And I shuddered to find how easily I fell back into the old routine of flattery, using sweet words to get my way. But the difference was that then I was a callow and beautiful boy, while now I was a grown man, a doctor and a soldier. Or I had been, because that would all be ending. Anything I was before, I would no longer be. I would be only the Irishman's catamite. At least for as long as I pleased him. And after that -- I would undoubtedly be dead.

"I have waited for this moment so long, Johnny Lad," he said, almost purring. He pressed his body against mine. He was older than the last time we had been together, but so was I. The Irishman might be evil, but he was also seductive and still attractive. His deep, resonant voice still had the power to enthrall.

I closed my eyes and pictured Holmes. Imagined him there, in my arms, the way I had so often pictured him, when I was with a female or, more recently, with Mick or Thommie or even the attendant at the bathhouse.

I could do this. I had to do it.

He pushed me to my knees and I did not falter. I did what was required of me and performed my duty to the best of my ability.

And in doing it, I sealed this devil's bargain for the second time in my life.

"Come, caro mio," the Irishman whispered, pulling me by the hand. "We need privacy. Our room is exactly the way it was. No other man has polluted it since you left. I always knew you would return, Johnny. I knew it."

"Wait," I said, halting before the stairs. "I need to go back to Baker Street and conclude my affairs first."

The Irishman's face darkened. "Are you regretting this already, John Watson?"

"No," I affirmed. "Not at all. But I cannot simply disappear. You know Holmes -- he would turn the city upside down to find out what had happened to me. And that means he would eventually come to this door. You know him well enough to realize that is merely the truth."

"Then what?" asked the Irishman. "If I am not allowed to kill him?"

"Or harm him," I added, knowing that the Irishman would seize on any loophole.

"Yes," said the Irishman. "Or harm him."

"I need to go back and close down my medical practice," I said. "I have an acquaintance who will take over my few patients. And I must settle my accounts. I wish to leave no debts behind."

"And Holmes?" The Irishman practically spat out the name.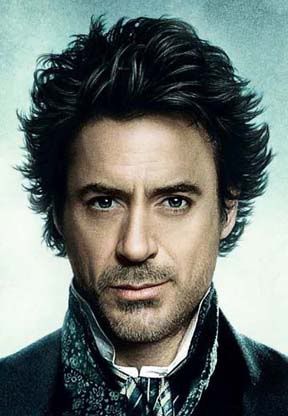 "He will understand why I wish to leave Baker Street," I said, thinking of Holmes watching me with Thommie in that room in Cleveland Street. The look on his face. "This has been coming for some time. He will not be surprised by my decision. I will tell him that... that... I am going on a long trip. Perhaps to the Continent. To sort things through. He will not endeavour to stop me. And he will not seek me out, as he would if I were simply to vanish. Because if I did that he would never rest until he found me. You know that a mystery is the very air that he breathes."

"I know," said the Irishman. "Curse the man!"

"So I need time to accomplish this."

The Irishman leaned close to me. "Three days," he allowed. "That should be enough time. You will come to me on Sunday and I will be waiting. Then we will go abroad for a while."

"Abroad?"

"Yes," he said. "I cannot have you remain in London until time has permitted things to be confirmed between us. And I am sure you do not wish to be shut up in this house for months at a time."

"No," I thought of the oppressive atmosphere of the place. "I do not."

The Irishman smiled, pleased with his plan. "I have business in America, in New York and Chicago. New opportunities to seek and new connections to make. I also have my estate in Virginia. It is secluded, but quite beautiful there. The mountains are as blue as your eyes. It will be like a honeymoon." And then he laughed. "A second honeymoon!"

I nodded. He was right. It would be best if I left London, left England. I wanted to be as far away from the Irishman's machinations as possible.

And as far away from Sherlock Holmes as I could get. A wide ocean away.

"Sunday, then," he said, leading me to the front door.

"Sunday," I agreed.

"And if you do not turn up," he added, his voice sharper now. "I will come and collect you. Because now that you are mine, I am not planning to let you go again. I vow that no one else shall ever have you -- only me. Do you hear me and understand, Johnny Lad?"

"Yes," I said. "I hear you. And I understand."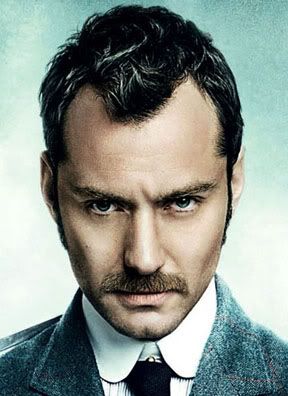 ***